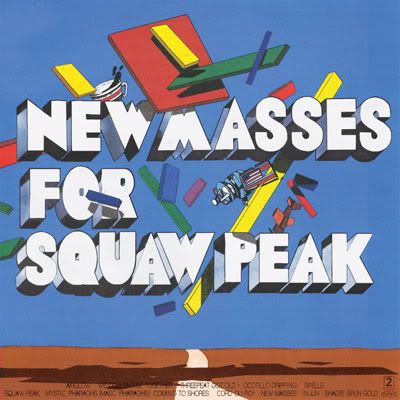 Holiday Shores - Shadie Spun Gold
Holiday Shores - Threepeat Got Old
Holiday Shores - Spells
"
New Masses for Squaw Peak
gifts unto us bold, surprising new textures and denser, cheekier ideas and themes. It's packed tight with style: gauze-flange experimentation; jazz-chord death-pop; shifty proto-prog; historical and personal mythologies weaved through its passages. Yet, claustrophobic it is not.
New Masses for Squaw Peak
is as wide-open of a landscape as its title may suggest. It is also a well-traveled collection of songs: Laid to tape in the belly of an abandon Philadelphia textile factory; run through three mixing boards by three separate sets of hands; and ultimately sculpted into its final form by the gentlemen who conjured it in the first place."
Want more? Check out the bonus video of
Threepeat Got Old
, after the jump.
*
For the locals:
Holiday Shores will be performing at this year's
Summer Jam 7
at the New World Brewery stage on Saturday, August 27th
New Masses For Squaw Peak
will be released on September 13th, via
Twosyllable Records