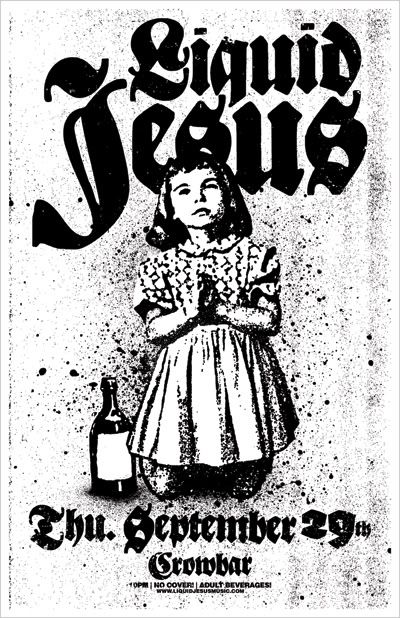 It's been a long,
long
while since we've thrown a party of our own, but guess what? It's on again TONIGHT at Crowbar, and we're gonna celebrate in style!
Especially
now that Liquid Jesus is a certifiable,
award-winning
entity (dubbed 'Best Musical Informant' by our lil' buddies over at
Creative Loafing
). That's right. Someone out there must really dig our crazy tastes in music, self-deprecating style of overly-enthusiastic run-on sentences, wildly abusive use of potty-language, made-up adjectives, and just plain stupid tongue-in-cheek humor. Or maybe it's just all of the beards and booze.
In any case, come on out for a drink or two. It's a FREE party with great drink specials, and this time we've got the ENTIRE Liquid Jesus family representing: RIG, Colonic, Delach, Ms. Mollie Gondi, Walker, Darrell Darrell, and Mes McDonald! See you tonight, boys and girls!
$2
PBRs
$3
Jim Morrison shots
$4
Blast Extra Tall Boys
$5
Jamesons
$6
Liters
Doors at 10:00 • NO COVER • 18+
Crowbar: 1812 N. 17th St. • Tampa, FL