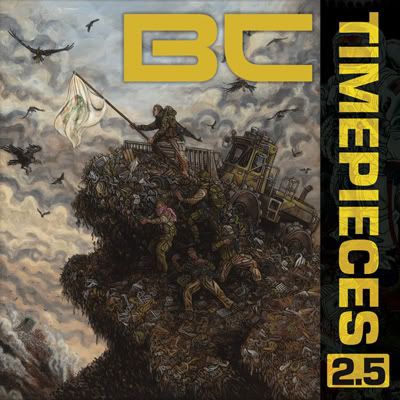 BC - Mecha Caffeine
BC - Bounce
Time Pieces 2.5 (Songs From The Scrap Heap)
is a quick lil' addendum/stopgap EP to BC's mammoth manifesto
Time Pieces
Trilogy (our little introduction to
Time Capsule
is
HERE
if you wanna recap a bit) and features more dark 'n' dirty cerebral themes of impending doom and decay as told by this hip hop freedom-fighter vocabulist. Plus! More eerie beat wonkiness courtesy of mad-scientist Mudd Buddha. For a bunch of conspiracy-theorists/sci-fi nerds, these weirdos sure can put together a dope recording.
Time Pieces 2.5 (Songs From The Scrap Heap)
is available in its entirety as a FREE download, courtesy of BC. Click
HERE
to get it.