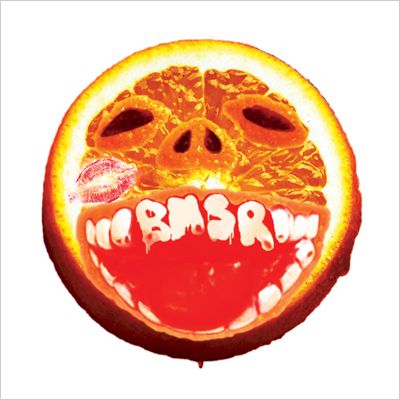 Black Moth Super Rainbow - Hairspray Heart
Black Moth Super Rainbow - Gangs In The Garden
Um, swoon. What's there
not
to adore here on the new sooper-dooper, highly anticipated
Cobra Juicy
full-length (and
Psychic Love Damage
EP, made up of remnants from the tossed long-player of the same name) from enigmatic psych weirdos Black Moth Super Rainbow? Go ahead and peruse the Liquid Jesus vaults and you'll notice that there's been a whole hell of a lot of
BMSR
slash
Tobacco
slash
Graveface-related
fanboy-esque love being thrown around and speckling our
playlists
for, like, forever now... So, yeah - we're kinda obsessed. Think eclectic/electronic synthesizer-induced noise with a slew of cute lil' melodic hooks and creepy choruses that just might be too confusingly infectious for your own good. Plus! dirty-dirty vocoder ramblings and a sickeningly-sweet slice, er... scoop, if you will... of bizarro-world ice-cream-truck psych-pop for you to suck on.
Highly recommended
.
*
For the locals:
Black Moth Super Rainbow will be
performing
on Halloween night - Wednesday, October 31st at Crowbar in Ybor City.
Cobra Juicy
will be released on October 23rd, courtesy of
Rad Cult